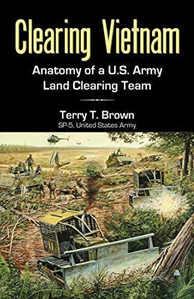 Former SP-5 Terence "Terry" T. Brown, had served in South Vietnam from February of 1968 to September of 1969 as a Rome Plow operator, first with the U.S. Army's 86th Engineer Battalion Land Clearing Team, which was based at Bearcat Basecamp, southeast of Saigon, while he also had served during 1969 with the 501st Land Clearing Company of the 62nd Engineer Battalion, based at Long Binh Post within the III Corps Tactical zone of military operations. While with the 501st, he had also served as a Squad Leader, whose job it was to communicate via a PRC-25 field radio from atop a M113 armored personnel carrier, to effectively monitor the 'cut' for his string of Rome Plow tractors, while sometimes alerting the maintenance track to the scene of machines that were in need of repair, or in alerting the mechanized security of any unusual conditions or incidents. In 2021, Terry was sworn in to become the President and Boss of a distinguished national reunion organization, the Vietnam Land Clearers Association.
In his book, Clearing Vietnam, Anatomy of a U.S. Army Land Clearing Team, Terry describes his experiences throughout his 18-month tour in great detail, while also allowing the reader to understand what it was like to operate the Rome Plows on a daily basis, with various hazards and harsh climate conditions to deal with and to overcome; not to mention the occasional encounters with Viet Cong guerrillas or their land mines placed strategically in and around the jungle.
This unusual memoir captures the sights, sounds and experiences of a young combat engineer from within the jungles of South Vietnam, where hard work, grueling conditions and enemy encounters forced this 19-year-old to grow up fast. The detailed account also highlights the achievements and dedicated spirit of a unique Engineer outfit, which evolved from a rag-tag platoon of Land Clearing pioneers, to eventually achieve full Company status within an unprecedented new battalion, comprised entirely of Land Clearing units. Essentially, this is a nuts-and-bolts and sweat-and-blood window view of a very different sort of wartime experience.